If you work from home, then you understand the triumphs and struggles that go along with your everyday professional life. Distractions and interruptions are common, and interference manifests itself in ways you wouldn't expect at seemingly every turn. Working from home can be difficult for some, as many find it hard to implement a way to manage their time, create a proper workflow, sit still for an extended period, or stay focused on the task at hand. If you've noticed these things occurring while you're at work in your home office, you're definitely one of many people struggling with staying focused while working from home. Your "home office" is a vital piece in completing the puzzle that is working from home daily. Making sure that this space is set up and functioning to increase productivity and provide you with the components to succeed is paramount to any continued work-from-home success story. Designing a proper home office space will help to create more revenue for any company and ensure work-from-home employees exceed their expected production levels.
Things That Make A Good Home Office
You might get different answers when asking this question to those who work from home. After all, not everyone uses the same methods and materials to stay focused. However, most of them will likely agree that these few things are essential to staying on track and getting tasks done:
A window in or near your office
The right furniture - A comfy chair, the proper work desk, bookshelves, cabinets
Necessary desk items - lamps, mouse pads, mice, keyboards, headphones, chargers
The proper stationery
Tools To Help You Stay Focused
Using certain productivity tips and planning tools is a great way to help yourself remain on track while working from home. Consider using a planner or a calendar to write down important tasks, meetings, and dates. Using a bullet journal to write down personal or business goals is a great way to keep yourself accountable for tasks you might struggle with and is also a great way to visually manifest other goals or challenges you may be facing. This is only one of many effective ways to use a bullet journal, but it is definitely one of the most creative and useful for home office work! Planning for the future is hard, but making use of calendars, whether physical or digital, can also be a useful tool for visualizing both short and long-term deadlines in one easy place. If you can better understand and plan for the long term, it might help you focus on the short term.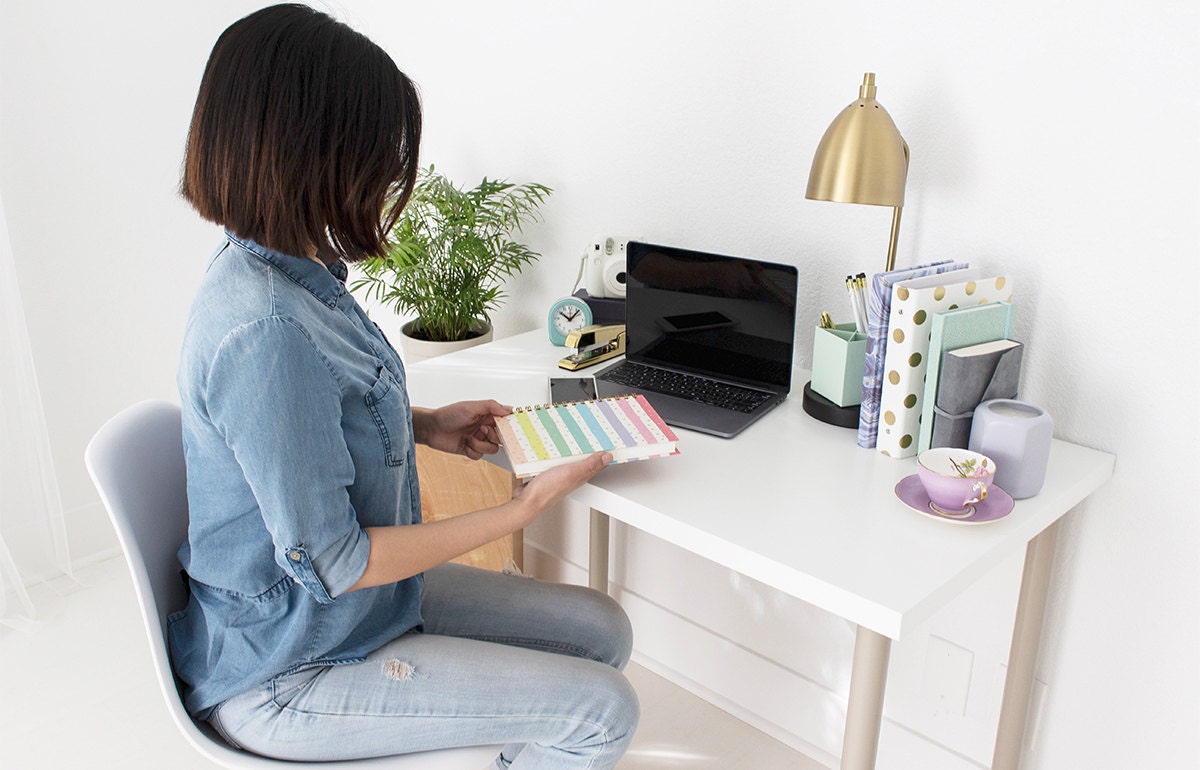 Invest In Better Stationery
Higher quality stationary may help you to be productive at your home office, especially if there is any work you do daily that isn't stored on your computer or electronic devices. New pens and pencils, paper, sticky notes, and index cards are good investments for the long term, as they can last quite a while. Working with higher quality materials may greatly help you be productive, as they may promote usage over a longer period than with lower quality materials.
Upgrades To Your Home Office That Can Help Foster Productivity
If you are in the market for an office overhaul, consider the things that may need upgrading. Will you need a new desk? What about a comfy chair or a new window? Considering how expensive these upgrades may be, consider alternative financing options to help get the job done. A home equity loan may be an option to consider, especially if you're thinking about replacing numerous furniture items in your home office. Think about upgrades that will change the game in your home office. Make a splash and upgrade your dinky old desk to a hybrid one that allows you to stand up and sit down. Get in control of the privacy of your office by installing specially tinted windows or upgrading your windows to only allow certain amounts of light in. Upgrade your creaky office chair to something much more comfortable and with lots of support—especially if you are sitting for long periods. Consider an upgrade to the door of your home office to get something thicker and more sturdy, or even think about soundproofing the room—especially if you have a large family at home. Nothing is worse than attempting to be productive in your office but being unable to do so because your space limits you from completing your work. 
Distractions And How To Avoid Them
Everyone who has worked from home knows the many ways to be distracted from getting your work done. Since you're not in an office, it might feel a little less serious than on-site work, and it might be easier to get distracted. These distractions might include personal device usage, media consumption, noisiness, and the lack of a professional atmosphere to help you stay focused. Eliminating these distractions may prove difficult, but to stay on track, follow these tips to stay productive:
Avoid extraneous media - turn the TV in the other room off and stay away from social media as much as possible.
Personal device usage - only use your personal device if necessary for work or family-related matters, as too much can lead to unnecessary distractions.
Gauge your noisiness level - test whether or not you like to work in silence or with white noise in the background - committing to one or the other may increase your productivity.
Use a planner/calendar/schedule - closely following a plan of daily and weekly events may help you to eliminate non-work related occurrences and help you remain on track.
Taking a break - nobody can stay focused forever. Set time aside in your day for a break so you can come back to work feeling refreshed.
Items That Can Help The Office Feel Personalized To You
Your home office might be furnished properly now, but it could also use just a few things to spruce it up. Consider adding houseplants on a windowsill or a nearby shelf to give your home office some extra life. If you have a window in or near your office, consider updating your set of blinds to give your space some new light, and to give your window a new look. If you spend a lot of time looking at computer screens and you don't already wear glasses, then a stylish new pair of blue light glasses might be helpful for your vision, as looking at the same bright lights all day might hurt after a long week of work! Staying focused can be a big issue for many people who work from home, but with the proper upgrades and additions to your home office, this can become a problem of the past. You deserve to be working in a space that functions best for you, especially since it's in your own home! Consider making the changes to your home office to increase your productivity and help you stay on task, as your employer will certainly thank you for it. With the right home office, you can get anything done.  

This post was written as a collaborative post. Collaborative posts are written by another party who may or may not wish to be anonymous. Further, all posts are edited and formatted by Elizabeth Ghekiere. Want to collaborate with ElizabethJournals? Learn more here.