At the end of a long day, you might want to just sink into your bed and turn on the TV. When you wake up in the morning, you might feel like your brain isn't fully working yet. Both of these feelings are completely understandable. Luckily, there are simple habits you can add to your bedtime or morning routine that could change your mental health and lifestyle for the better. Journaling is simple but effective and can have many different impacts on you and your mental wellness. Whether it is to ease the feeling of depression, clear your mind of stress and worries before bed, or remember memories for the future, you cannot go wrong with taking 10 minutes every day to write something down.
Journal to Ease Depression
If you are struggling to enjoy your day, sleeping irregularly, or finding it hard to look forward to things, you might be showing some symptoms of depression. The stigma around depression and mental health as a whole has such a negative connotation. However, once you get past the stigma and realize that your mental health is not where it should be, you can find ways to start improving it. One simple way to try and ease these feelings of depression is to start a gratitude journal. Start journaling before bed and think about all the good that happened that day. Even if it wasn't a great day, try to remember that the sun still came up and shined through the clouds. Your gratitude can be as specific or as broad as you want it to be; this is for you to find the positives in everyday life. If this seems like a difficult task, you can use gratitude prompts to guide your thoughts. Follow along with the questions given and let it lead you to practice gratitude.
Journal to Clear Your Mind
It can be hard to focus on just one thing when you feel like you have a million things on your mind. A journal can be used to sort out your thoughts and get them onto a piece of paper. Doing this leaves room in your mind to learn, grow and appreciate those around you. Along with this, you can use your journal as a checklist. If you know you have a lot of things to get done the next day, then write it all down in a journal before you go to bed. You can then let your mind relax knowing you are not going to forget anything. Close your eyes and only concentrate on the present moment, your journal and thoughts will be there in the morning.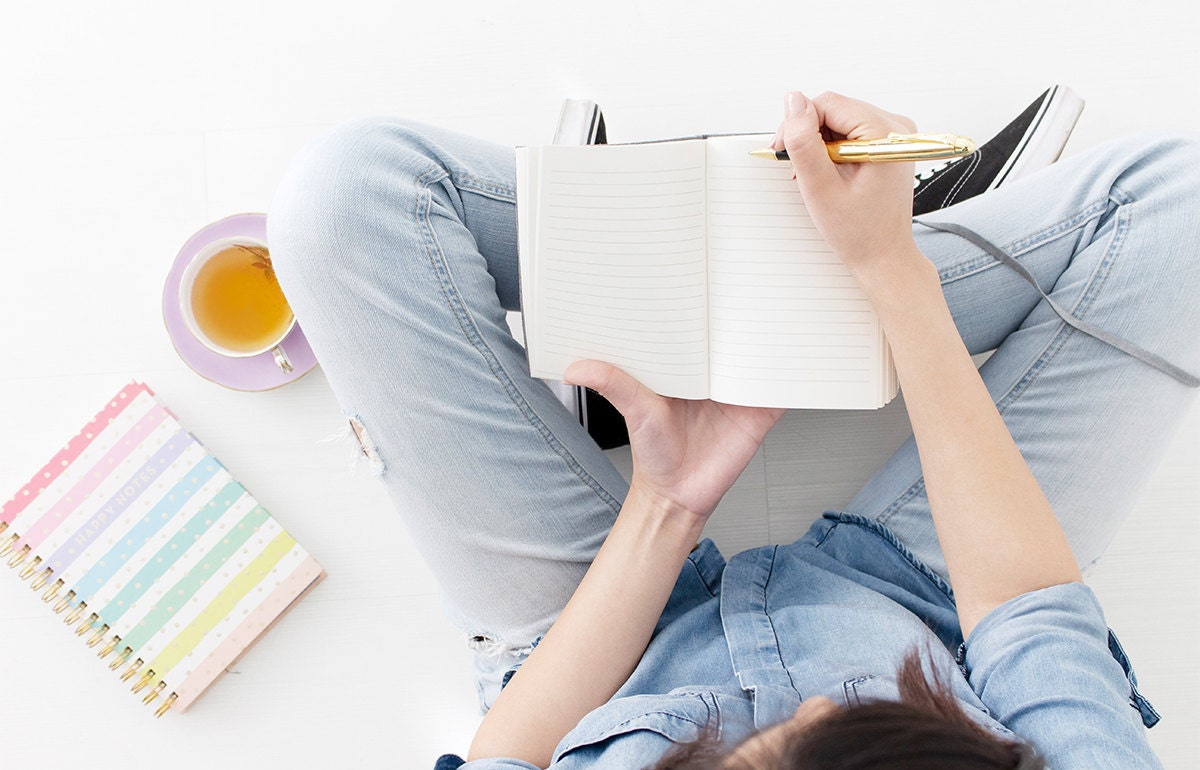 Journal to Keep Memories
Life goes by faster than you think. There are going to be moments in each day that you are going to want to remember, so take some time to relive them while you write it down. If you are going on an important trip, for example, studying abroad, going to visit a loved one, or going on a solo trip to a new place, it is important that you cherish those memories. Either before bed or right when you wake up take 10 minutes to write down a memory that you want to take away from this trip and remember forever. How did it make you feel, what did you see around you, how can you describe it so you can tell others about it? You will thank yourself later for journaling it today. 
Find a Journal that Works for You
Depending on what your goals are for 2023, you might want a certain journal. If you're more of a planner and want to use your journal to schedule ahead and start checklists, you might want to buy a custom planner. If you're using a journal to write down your feelings and thoughts in general, you can get a more simple journal and then let your journaling journey go in any direction that works for you. One of the most important things to remember is that journaling can be done even on the best of days. Many people think of journaling when they are stressed or going through a hard time, but to adapt a habit, you are going to need to continue to journal throughout the good and bad days. There are so many reasons to journal, set yourself up for success in 2023, and get writing.